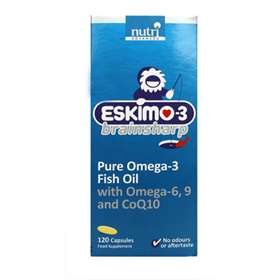 Click on image to enlarge



Price: £22.40 (incl VAT)

Eskimo-3 Brainsharp Omega 3 fish oil capsules combined with omega-6,9 and CoQ10.
Omega 3,6 and 9 contribute to a healthy heart, brain function, vision and growth development.
CoQ10 provides energy and boosts the immune system.
Eskimo-3 is a clean a sustainable form of omega 3 that's purified to reduce environmental toxins.
Antioxidant.
DHA and EPA.
No odour.
No aftertaste.
With added omega-6, 9 and CoQ10.
Nutritional information per 4 capsules:
align="left"
align="right"
1360mg
align="left"
Eicosapentaenoic acid (EPA)
align="right"
640mg
align="left"
Docosahexaenoic Acid (DHA)
align="right"
320mg
align="left"
Vitamin E (13.5iu)
align="right"
9mg
Alpha-Linolenic acid (ALA)
align="right"
80mg
align="left"
Omega-6 fatty acids
align="right"
480mg
Linoleic acid (LA)
align="right"
400mg
align="left"
Gamma-Linolenic acid (GLA)
60mg
Omega-9 fatty acids(Oleic acid)
align="right"
560mg
align="left"
Vitamin D (175iu)
align="right"
4.5μ
Vitamin E (13.5iu)
align="right"
9mg†
Coenzyme Q10
align="right"
8mg

Directions for use:
2 capsules twice daily with food.

Ingredients:
Natural fish oil (fish), capsule shell, (Gelatin, Glycerol), Rapeseed oil, Evening primrose Oil,
Flavouring: Lemon Flavouring, Antioxidant blend (Lecithin (Soy), vitamin E (Alpha Tocopherol)
Antioxidants: Tochoropherol-rich extracts, extracts of Rosemary, Ascorbyl Palmitate, Co Enzyme Q10 (Ubiquinone), Vitamin D (Cholecalciferol).



| | | | | |
| --- | --- | --- | --- | --- |
| Product code: ESK-3305 | | Price: £22.40 (incl VAT) | | |