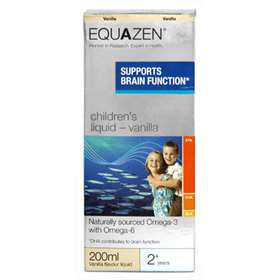 Click on image to enlarge



Price: £6.89 (incl VAT)
Sorry, this item is currently unavailable. Click here to receive notification when this product comes back into stock.
Equazen Children's Liquid Vanilla is an easy and convenient way to give your children a balanced intake of Omega-3 and Omega-6.
Naturally sourced Omega-3 with Omega-6.
Supports brain function.
Food supplement.
Child friendly formula.
No sugar added.
No artificial flavours or colours added.
Directions of Use:
One 5ml teaspoon per day with food. When starting supplementation it is recommended to take three 5ml teaspoons per day for the first 12 weeks to help restore essential fatty acids in the body.
Suitable for 2 years to adult.
Consult your doctor or pharmacist if you are pregnant, on any medication or if you have a medical condition before starting supplementation.
Do not exceed the recommended daily intake.
Food supplements should not be used as a substitute for a wall balanced or varied diet and healthy lifestyle.

Cautions/Warnings:
Keep in a cool dry place.
Keep out of children's reach.
Shake bottle before using.
Refrigerate after opening.
Chilled oil may look cloudy.
Use within three months of opening.

Ingredients:
Sunflower oil, fish oil, evening primrose oil, flavourings: natural vanilla flavour (3%), antioxidant: tocopherol-rich extract.