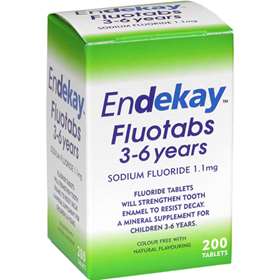 Click on image to enlarge



Price: £3.69 (incl VAT)
Sorry, this item is currently unavailable. Click here to receive notification when this product comes back into stock.
A mineral supplement for children aged 3-6 years. Each tablet contains 1.1mg of Sodium Fluoride.
200 tablets.
To strengthen the tooth enamel to resist decay.
Sodium fluoride 1.1mg.
Colour free.

Suitable for children aged 3-years.
The tablet should be sucked or allowed to dissolve slowly in the mouth.


Directions for use:
Children 3-6 years: fluoride ion content of water supply less than 0.3ppm: 1 tablet daily, 0.3-0.7ppm: half a tablet, over 0.7ppm: not to be given.