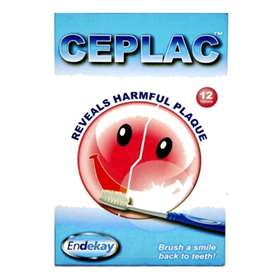 Click on image to enlarge



Price: £1.60 (incl VAT)

Endekay Disclosing Tablets - helps to identify any plaque on your teeth.
Key Benefits:
Ensure you are brushing your teeth properly.
A fun way for you to help your child brush their teeth effectively.
Plaque is the invisible film of bacteria and sugars on the surface of your teeth producing acid which causes tooth decay. The tablets contain a dye which stains plaque bright red.
Suitable for use with children aged 6 upwards - under adult supervision.

Directions for Use:
1. Before you clean your teeth, crush one tablet between the teeth. Spread the liquid in your mouth round your teeth and gums with your tongue. DO NOT swallow the tablet.
2. Rinse your mouth once or twice with fresh water.
3. Carefully brush your teeth, paying particular attention to those areas which have been stained bright red.
4.Brush until all the red stains have gone.

At first you should use the tablets once a day. Later, you should use the tablets from time to time to check that your teeth are really clean.

Ingredients:
Erythrosine 6mg • mannitol • pregelatinised maize starch • saccharin sodium • menthol • thymol • magnesium stearate and eucalyptus oil.

Warning:
If you have ever had an allergic reaction to any of the above ingredients consult your doctor or dentist first as this may not be suitable for you. If you are pregnant or think you may be pregnant do not use the tablets.





| | | | | |
| --- | --- | --- | --- | --- |
| Product code: CEP208L | | Price: £1.60 (incl VAT) | | |