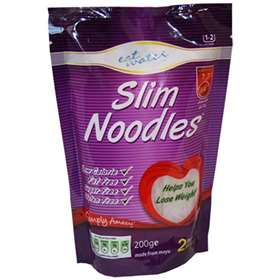 Click on image to enlarge



Price: £1.49 (incl VAT)
Sorry, this item is currently unavailable. Click here to receive notification when this product comes back into stock.
Only 2 remaining expiry 10.06.15 reduced original price 2.29
Eat Water Slim Noodles are a delicious and healthy alternative to regular noodles. They are made with water and Moyu - a vegetable extract that has been a staple part of diets in Asia for centuries. These noodles are quick and easy to prepare and will absorb any flavours you pair with them, making them a great low-calorie addition to stir-fries.

The whole packet contains only 15 calories and will keep you feeling full until your next meal, making these noodles perfect for people trying to lose weight as part of a healthy lifestyle. Also suitable for coeliacs, diabetics, vegans and vegetarians.

See our review for Slim Noodles on our Wordpress blog here.


200g pack (1-2 servings).

Fat free.

Gluten free.

Sugar free.

Low calorie.

Help you to lose weight.


Directions for use: Drain away water from the pack. Rinse 2-3 times under warm water to remove excess starch. Heat in an open pan for 2-3 minutes or in a microwave for 1 minute. Add to your favourite noodles sauce, stir-fry, soup or salad.

Ingredients: Water, Moyu (Konjac) (2.7%), Firming agent: food-grade Calcium Hydroxide.

Storage Instructions: Keep in a cool dry place. Do not freeze. Once open, keep in clear water for a maximum of two days.