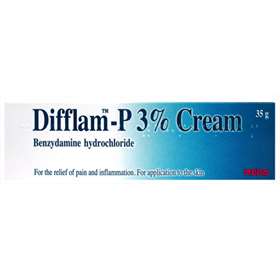 Click on image to enlarge



Price: £3.80 (incl VAT)
Sorry, this item is currently unavailable. Click here to receive notification when this product comes back into stock.
Difflam-P Cream 35g is part of a group of medicines called non-steroildal anti-inflammatory drugs, or NSAIDS, which work by stopping swelling (inflammation) and pain. Difflam-P Cream 35g is used to treat aches and pains including:
Sprains.
Strains.
Bruises.
Sore Muscles.
Stiff joints.
Directions:
Rub Difflam-P Cream 35g gently into affected area three times each day, for no more than 10 days.
Wash hands after use unless treating your hands.
Stop using the cream if skin sensitivity occurs.

Warnings:
Avoid contact with the eyes.
Do not use if you are sensitive to any of the ingredients.

Taking other medicines
Tell your doctor, dentist or pharmacist before using Difflam-P Cream 35g if you are taking any other medicines, even medicines obtained without a prescription.

Pregnancy and breastfeeding
If you are pregnant, trying to become pregnant or breastfeeding ask your doctor, dentist or pharmacist for advice before using Difflam-P Cream 35g.

Ingredients:
Benzydamine Hydrochloride 3%w/w, Cutina (glycerol stearate), Cetyl Alcohol, Cetiol V (decyl oleate), Eumulgin B1 (macrogol cetostearyl ether), Propylene Glycol, Perfume, Methyl Hydroxybenzoate, Propyl Hydroxybenzoate and Water.