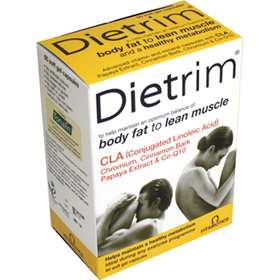 Click on image to enlarge
| | |
| --- | --- |
| Price: £11.00 (incl VAT) | Sorry, this product is no longer available. |
Dietrim Capsules 60 have been developed by leading nutritionists in the knowledge that certain nutrients can play an important role in metabolism. Dietrim is not a weight loss product but can help to provide the nutritional support you need as part of a calorie controlled diet and regular exercise plan.
60 Soft gel capsules.
Helps maintain a healthy metabolism.
Ideal during any exercise programme.
Suitable for men and women of all ages.
No sugar or gluten.
No artificial colours or preservatives.
Contains antioxidants, to protect against free radicals.
With high concentration CLA (Conjugated Linoleic Acid) to help reduce body fat whilst maintaining lean body mass.
Dietrim has been carefully formulated to work with the body's own natural processes. It has been designed with a realistic approach, aimed at maintaining optimum body composition, rather than claiming to "shed pounds" off you. It does this by providing nutrients (including CLA), that if taken on a regular basis, can help the body's own metabolism to achieve a better balance between body fat and lean muscle.

Dietrim Formula Breakdown
Body Fat and Lean Muscle;
With high concentration in CLA (Conjugated Linoleic Acid), a fatty acid derived from naturally sourced linoelic acid found in the Safflower plant.
Numerous studies have shown that CLA is seen to be useful in conjunction with exercise and a healthy diet.


Energy Release and Optimum Metabolism;
Co-Enzyme Q10 acts as an antioxidant to help prevent damage from free radicals created during intense exercise and during the generation of energy.
It also functions as part of the cellular system that generates energy for bodily processes.
B complex vitamins (B1, B2, B3, B5, B6, B12, Biotin and Folic Acid) also assist with the release of energy from fat, carbohydrate and protein.


Healthy Sugar Levels;
Chromium is an essential trace mineral that aids in regulation of insulin levels, glucose metabolism and maintenance of healthy blood levels of cholesterol and other fats.


Digestion;
Cinnamon bark extract plus Papain is useful for those on a high protein diet.
It is a naturally occurring enzyme that facilitates the digestion of protein.


Working Out:
Dietrim contains vitamins C, E and mixed carotenoids, which are all antioxidants used to protect against the extra free radicals generated during exercise.
Dietrim Soft Gel Capsules are a truly comprehensive shape management supplement, simultaneously supporting you in a number of ways:
Maintaining a healthy metabolism.
Protecting your body from free radical damage.
Providing essential nutrients which may be lacking during dieting.
Ingredients:
Conjugated Linoleic Acid (CLA as Triglycerides), Pharmaceutical Grade Gelatin, Glycerine, Glazing Agent: Beeswax Yellow, Collodial, Silicon Dioxide, Magnesium Oxide, Vitamin C (Ascorbic Acid), Soya Bean Oil, Papain, Pantothenic Acid (as Calcium Salt), Lecithin, Thiamin (Vitamin B1 Mononitrate), Ferrous Fumarate, Niacin (Nicotinamide), Vitamn B12 (as Cyanocobalamin Prep.), Vitamin E (as DL-Alpha Tocopheryl Acetate), Natural Source Colours (Iron Oxide), Vitamin B6 (as HCI), Zinc Oxide, Co-Enzyme Q10, Cinnamon Black (Concentrated Extract), Natural Mixed Carotenoids (Betacarotene), Copper Sulphate, Riboflavin, Natural Flavour: Orange Oil, Vitamin A (Palmitate), Manganese Sulphate, Folacin (as Folic Acid), Chromium Trichloride, Vitamin D3 (as Cholecalciferol prep.), Potassium Iodide, Selenium (as Sodium Selenate), Biotin, Contains: Soya Bean Oil.

Directions for Use:
Take four Dietrim Capsules per day with a main meal.
This is best achieved by taking two after lunch and another two after your evening meal.
Swallow with a glass of water or cold drink.
Do not chew.

Cautions;
Dietrim is not an alternative to a healthy diet and regular exercise plan.
Dietrim should only be taken on a full stomach.
A general multivitamin is not necessary in addition to Dietrim.
The benefits of this supplement builds over time. For best results a minimum 3 course is recommended.
Keep in a cool dry place, out if sight and reach of children.
Dietrim contains iron, which if taken in excess may be harmful to young children.
Seek professional advice before use if you are pregnant, breastfeeding or suffer from food allergies.