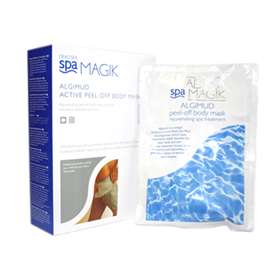 Click on image to enlarge



Price: £9.99 (incl VAT)
Sorry, this item is currently unavailable. Click here to receive notification when this product comes back into stock.
Dead Sea Spa Magik Algimud Active Seaweed Body Mask is made up from a unique combination of Dead Sea Mud and natural seaweed, Alginates. When mixed with water this mask is capable of releasing all active minerals and ingredients which help promote a toned and firm body.


3 x 100g sachets.

Easy to use peel off body masks.

Suitable for use on the back, buttocks, chest, abdomen and front and back of the legs.

Skin friendly and parabens free.

Not tested on animals.

Dead Sea Mineral Mud is one of the richest sources of minerals and these minerals have extraordinary therapeutic effects. They deeply purify the skin, restore radiance to the epidermis, the outer layer of skin and provide the minerals required for the skin cell's metabolism.

✔ Tones and firms the skin.
✔ Helps reduce cellulite and aids slimming.
✔ Helps reduce fluid retention.
✔ Remineralises and moisturises skin tissue.

Algimud is also available for the face. For best results use in conjunction with Dead Sea Spa Magik Body Lotion and Dead Sea Spa Magik Salt Brushing.

Directions for use: It is the Alginates in the blend that allow the gelfication process to start when mixed with water. Therefore the contents must be mixed quickly and immediately applied to the skin before the mask sets.

Step 1: Mix contents of sachet with 300ml of warm water (ideally at 20OC). Stir quickly to a smooth paste that is not too runny, or too thick to spread.

Step 2: Immediately apply a thick layer to the required body areas with a spatula or similar implement. Allow the mask to set properly.

Step 3: Leave for approximately 15 minutes or until set. Peel off like a second skin.

Ingredients: Kaolin, Cellulose, Algin (1), Calcium Sulfate, Maris Limus (Dead Sea Mud)*, Tetrasodium Phyrophosphate , Cyamopsis Tetragonolobus Gum, Laminaria Digitata Extract, C177288, C177499, Maris Sal, Menthol, Silica, Methyl Diisopropyl Propionamide.

Source: (1) Laminaria Digitata. (*) Special de-ionised water with pure Dead Sea Minerals: Magnesium, Potassium, Calcium, Sodium as Bromides, Chlorides and Sulphates.