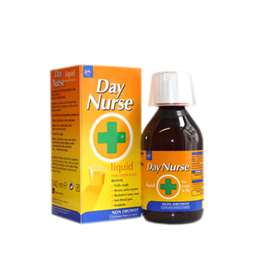 Click on image to enlarge



Price: £6.55 (incl VAT)

Day Nurse Liquid is a daytime cold treatment that effectively relieves symptoms of colds and flu without drowsiness. Each bottle of Day Nurse Liquid will give eight doses in the form of a demulcent syrup.
240ml Liquid.
Reduces temperature, aches and pains.
Controls Dry Coughs.
8 doses.
Day Nurse is also available in a Capsule form for convenience when on the go.

How to use:
Take during the day.

Adults and Children aged 12 years:
30ml (1 measure capful).

Day Nurse Liquid can be taken every four hours up to a maximum of four times in a 24 hour period.

Do not take:

For longer than 7 days unless your Doctor agrees.
If you have liver or kidney problems, chronic bronchitis.
If you are pregnant or breast feeding.
If you are under the age of 12.
If you have taken any other paracetamol containing products.

Warning:

Do not exceed the stated dose.
Immediate medical advice should be sought in the event of an overdose.

Ingredients: Each 30ml of medicine contains-
Paracetamol 1000mg, Pholcodine 10mg, Pseudoephedrine Hydrochloride 60mg.
Also includes Sucrose, 5% Ethanol, Liquid Glucose and Glycerol.




| | | | | |
| --- | --- | --- | --- | --- |
| Product code: 2831527 | | Price: £6.55 (incl VAT) | | |