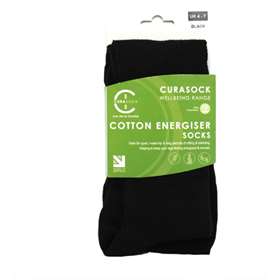 Click on image to enlarge



Price: £5.35 (incl VAT)
Sorry, this item is currently unavailable. Click here to receive notification when this product comes back into stock.
These energising socks, help to revitalise and energise aching and fatigued legs, offering both comfort and support. They help circulation and maintain regular blood flow. They are ideal for providing relief for your legs from day-to-day activities.

Directions:
Carefully position sock over foot, ensure heel is positioned into the heel pouch.
Gently pull sock up around the ankle and calf, ensuring sock is wrinkle free.
Caution, fingernails may damage the fabric.

Warnings:
Do not wear sock rolled down and do not turn down top band of sock.
If whilst wearing socks, any discomfort or pain is felt, remove and seek medical advice.
Seek medical advice before use if the following apply:
Previously suffered from bloodclots, recently undergone major surgery, known or suspected DVT, cellulitis, arterial disease, circulatory problems or diabetes.