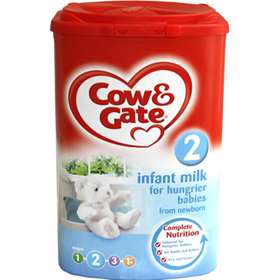 Click on image to enlarge



Price: £11.40 (incl VAT)
Sorry, this item is currently unavailable. Click here to receive notification when this product comes back into stock.
Cow and Gate 2 Infant Milk For Hungrier Babies (From Newborn) 900g is an infant milk with a special balance of milk protein designed to help your baby feel more satisfied. It is nutritionally complete to provide all the nourishment your baby needs when it's too early for weaning.

900g.
Nutritionally complete.
Hala approved.
Infant milk with a special balance of milk protein.
Contains a unique blend of oligosaccharides (0.8g/100ml).
LCPs.
Nucleotides.
Cow and Gate 2 Infant Milk For Hungrier Babies contains a unique blend of oligosaccharides (GOS/FOS) similar to those found in nature, key vitamins and minerals, nucleotides, LCPs and antioxidants.

Directions for Use:

Please note, because powdered milks are not sterile, failure to follow instructions may make your baby ill:

Wash hands and sterilise all utensils according to the manufacturers instructions.


Boil freshly run water. Leave kettle to cool for 30 minutes.Do not use artificially softened or repeatedly boiled water.


Measure the required amount of water (refer to feeding guide) into a sterilised bottle. Do not add powder to boiling water due to risk of scalding.
Using the scoop provided, level off the powder with the built-in leveller. Do not press/heap the powder.


Add one scoop to every 30ml (1fl oz)of boiled cooled water. Add the correct number of scoops to the water. Adding too many or too few scoops can be harmful


Replace seal on bottle. Shake well (for 10 seconds) to dissolve powder. Remove seal, replace with a sterilised teat.


Cool under running tap. Check temperature of feed. Feed immediately.
Cautions:
It is recommended that Cow and Gate 2 Infant Milk be used on the advice of a doctor, midwife, health visitor, public health nurse, dietician, pharmacist, or other professional responsible for maternal and child care.

When bottle feeding do not allow prolonged or frequent contact of milk feeds with your baby's teeth as this increases the risk of tooth decay. Ask your health professional or Dentist for advice. Make sure your baby's teeth are cleaned after the last feed at night.

For hygiene reasons, do not store made up feeds. Make up each feed as required and always discard unfinished feeds after 2 hours.
If necessary offer cooled boiled water between feeds. Do not heat in a microwave. Hot spots may occur and cause scalding
Never leave your baby alone during feeding.
Always read the instructions in full before using Cow and Gate 2 Infant Milk.
Ingredients:

Lactose, Skimmed Milk, Vegetable Oils, Galacto-Oligosaccharides (GOS), Fructo-Oligosaccharides (FOS), Calcium Carbonate, Taurine, L-tryptophan, Iron Sulphate, Inositol, Fish Oil, L-cysteine Hydrochloride, Vitamin C, Choline Chloride, Emulsifier (Soya Lecithin), Uridine-5-Monophosphate Sodium Salt, Cytidine-5-Monophosphate, L-isoleucine, Vitamin E, Zinc Sulphate, Adenosine-5-Monophosphate, Inosine-5-Monophosphate Sodium Salt, Niacin, Guanosine-5-Monophosphate Sodium Salt, Pantothenic Acid, Folic Acid, Copper Sulphate, Vitamin A, Biotin, Vitamin B12, L-carnitine, Thiamin, Vitamin D3, Vitamin B6, Manganese Sulphate, Potassium Iodide, Vitamin K, Sodium Selenite. Contains Milk, Fish, Soya.


| | |
| --- | --- |
| Major Nutrients | |
| Energy | 275kJ |
| | 66kcal |
| Protein | 1.3g |
| Whey | 0.8g |
| Casein | 0.5g |
| Carbohydrate | 7.4g |
| of which sugars | 7.3g |
| of which lactose | 7.0g |
| Fat | 3.4g |
| of which saturates | 1.5g |
| of which unsaturates | 1.9g |
| of which unsaturated LCPs | 15mg |
| of which unsaturated Arachidonic Acid (AA) | 6.4mg |
| of which unsaturated Docosahexaenoic Acid (DHA) | 6.4mg |
| Fibre | 0.6g |
| Sodium | 17mg |
| Vitamins | |
| Vitamin A | 54µg-RE |
| Vitamin D3 | 1.2µg |
| Vitamin E | 1.1mg α-TE |
| Vitamin K1 | 4.4µg |
| Vitamin C | 9.2mg |
| Thiamin (B2) | 50µg |
| Riboflavin (B2) | 116µg |
| Niacin (B3) | 430µg |
| Pantothenic Acid | 330µg |
| Vitamin B6 | 40µg |
| Folic Acid | 13µg |
| Vitamin B12 | 0.18µg |
| Biotin | 1.5µg |
| Minerals | |
| Potassium | 65mg |
| Chloride | 42mg |
| Calcium | 47mg |
| Phosphorus | 26mg |
| Magnesium | 5.1mg |
| Iron | 0.53mg |
| Zinc | 05.mg |
| Copper | 40µg |
| Manganese | 7.5µg |
| Fluoride | <3µg |
| Selenium | 1.5µg |
| Iodine | 12µg |
| Others | |
| Choline | 10mg |
| Taurine | 5.3mg |
| Inositol | 3.4mg |
| L-carnitine | 1.1mg |
| Nucleotides | 3.2mg |