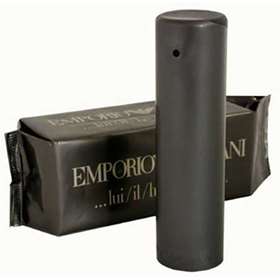 Click on image to enlarge
The Emporio Armani subsidiary of the far-reaching Armani empire focuses on high end luxury fashions and is the only branch of armani that is today mainly designed by the man himself.

launched in 1998, this fragrance in it's styling pushes the Armani obsession for minimalist chic to it's absolute limit. Stark and strikingly modern the bottle design deftly does away with anything superfluous.

Aimed at young adults, Emporio Armani He can be thought of as understated and subtle with effortless masculinity and a scent to suit all occasions.

Please follow the links below to purchase

Please note: Due to transport legislation, we cannot ship more than 4 Fragrances per order; Our perfume orders work on a back-order system that might take up to 7 days. If you have an urgent request, please contact us prior to ordering.