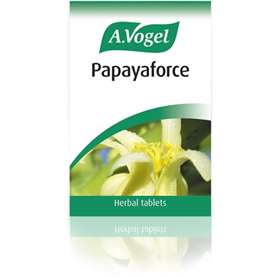 Click on image to enlarge
| | |
| --- | --- |
| Price: £6.24 (incl VAT) | Sorry, this product is no longer available. |
Bioforce Papayaforce.


Bioforce Papayaforce tablets can aid digestion as well as break down intestinal worms.
Works to help the digestion of proteins, and it has antiulcer and antiparasitic properties.
Tablets made from papaya leaves and Papain.
No restrictions on long term use.
Papayaforce works by producing a digestive enzyme to ensure the propper breakdown of protein in the stomach. This might make the digestion of meats, fats and gluten easier and less likely to irritate the intestines.
As for treating intestinal worms, research has shown that the Papain in Papayaforce dissolves the outer layer of the worm.

Directions for use:
Adults: 1 tablet 2-3 times daily.
Children (6-12 years): 1 tablet twice daily.
This product is not recommended for children under 6 years of age.
If you are taking Papayaforce to treat worms, it is recommended you take these tablets for a minimum of 6 weeks. Only stop taking them when there has been no sign of intestinal parasites for 3 weeks. It might be best to keep a diary, to keep track of progress.

Not recommended if pregnant or breast feeding.
If you are intolerant to lactose, this product is also not recommended.

Ingredients: Each 250mg tablet contains 153mg powdered papaya leaves and 9mg Papain • Also contains: Glucose • Lactose • Magnesium Stearate (vegetable source) • Acacia Gum.