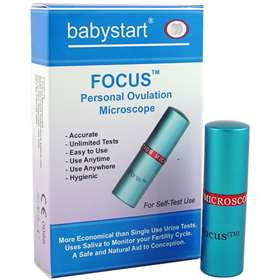 Click on image to enlarge
| | |
| --- | --- |
| Price: £22.99 (incl VAT) | Sorry, this product is no longer available. |
Just the size of a lipstick, this is a discreet new method of self-testing for ovulation. Carry out unlimited tests wherever you need to with this personal ovulation microscope from Babystart...

The FOCUS personal ovulation microscope is a saliva fertility tester that quickly and accurately identifies a woman's fertile and infertile days.

How it works:
When a woman is fertile, her saliva forms a distinct fern-like pattern when it dries, due to an increase in hormone levels. The presence of this fern-like pattern indicates that a woman is at her peak fertile period. This pattern is best seen around 2 days before and 2 days after ovulation. This is the best time to have intercourse when planning a pregnancy.

How to use:

Carefully remove the lens by pulling it out of the casing.

Place a drop of your saliva on the microscope lens. Try to avoid any air bubbles.

Allow the saliva to dry for at least 5 minutes. Then replace the lens into the body of the FOCUS.

Look into the lens while bringing it close to the eye. Focus the lens and push the light (button at the base) and view your results.

Tips for best results:

Try to test first thing in the morning.

Wait at least 2 hours after eating, drinking or brushing teeth.

Key benefits of the Baby Start:

Accurate

Economical

Unlimited tests - no need to buy special testing strips every month

Easy-to-use

Use anytime

Use anywhere

Hygienic

Instructions with photos showing examples of the ferning pattern enclosed.