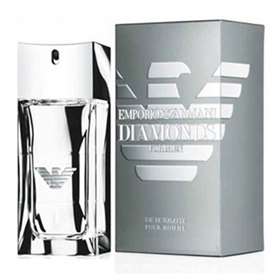 Click on image to enlarge
Emporio Armani, the high end luxury branch of the Armani empire launched Diamond in 2008 and as such it is one of Armani's more recent additions to the fragrance world.

Retaining the clean modern approach so commonly associated with the Armani name this fragrance has a stronger silage and longevity, working better as an evening scent.

Less conservative and more flavourful and upfront than many of the Armani perfumes, the net appeal of Diamond comes across as an intriguing masculine scent that has enjoyed considerable popularity since it's inception.

Please follow the links below to purchase

Please note: Due to transport legislation, we cannot ship more than 4 Fragrances per order; Our perfume orders work on a back-order system that might take up to 7 days. If you have an urgent request, please contact us prior to ordering.