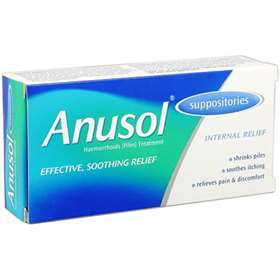 Click on image to enlarge



Price: £3.10 (incl VAT)

Use Anusol Suppositories for effective, soothing relief

Anusol Suppositories provide effective, soothing relief from the pain and discomfort associated with internal haemorrhoids (piles), itching, fissures and other related anal conditions.

Anusol Suppositories contain ingredients that soothe and protect raw areas, help reduce swelling, prevent bacterial growth and can promote healing.

Directions for use:
Topical use only. Insert one Anusol suppository into the back passage at night, in the morning and after each bowel movement.

Anusol Suppositories are not recommended for children.

Anusol Suppositories are also available in a larger 24 packsize.

Ingredients:
Bismuth Oxide, Zinc Oxide and Bismuth Subgallate are mildly astringent and help to shrink the swelling of the piles. Balsam Peru has a mild antiseptic action. Inactive ingredients: Hard Fat (Suppocire BS2), Kaolin light, Titanium Dioxide, Miglyol 812.






| | | | | |
| --- | --- | --- | --- | --- |
| Product code: 0014894 | | Price: £3.10 (incl VAT) | | |