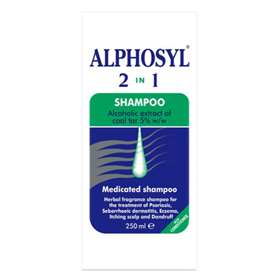 Click on image to enlarge



Price: £7.95 (incl VAT)

Alphosyl 2 in 1 Shampoo 250ml is a herbal fragranced shampoo for the treatment of psoriasis, itching of the scalp, dandruff and seborrhoeic dermatitis. If you use Alphosyl on a regular basis this will help to overcome these problems.
250ml bottle.
Medicated Shampoo.
Contains Coal Tar.
For the treatment of Psoriasis, dandruff, itching scalp and seborrhoeic dermatitis.
Herbal fragrance.
Alphosyl 2 in 1 Medicated Shampoo is available without a prescription, but you must still use Alphosyl carefully to get the best results from it.

The active ingredient in Alphosyl Shampoo is alcoholic extract of coal tar, which relieves itching and is an anti-scaling agent which helps breakdown keratin.

How to Use:
Alphosyl 2 in 1 Medicated Shampoo is suitable for all ages.
Wet hair thoroughly.
Briskly rub a liberal amount of Alphosyl Shampoo into your hair and scalp for several minutes, working the shampoo into a rich lather.
Rinse your hair thoroughly.
Alphosyl 2 in 1 Shampoo should be used once or twice weekly for dandruff. If you are suffering from Psoriasis, Itching of the Scalp or Seborrhoeic Dermatitis then Alphosyl should be applied every two or three days or as directed by your Doctor.

Like all medicines, Alphosyl 2 in 1 Shampoo can have side effects but not everyone gets them. Stop the treatment and speak to your Doctor or Pharmacist if you experience:
Allergic reactions which may be severe such as skin rash and itching, swelling of the mouth or face or shortness of breath.
Skin Irritation.
Sensitivity to light.
Do not Use:
If you have ever had an allergic reaction to alcoholic extract of Coal Tar or any of the other ingredients contained in Alphosyl.
Talk to your Doctor or Pharmacist before using Alphosyl 2 in 1 Shampoo if you are pregnant, thinking of becoming pregnant or are breast feeding.
Ingredients:
Active Ingeredient: 5% w/w alcoholic extract of Coal Tar.

Other Ingredients:
Sodium Lauryl Sulphate, Ammonium Lauryl Sulphate, Lauramide DEA, Herbal Fragrance 41.423, Hydroxypropyl Methylcellulose 2910, Citric Acid Anhydrous, Guarhydroxypropyltrimonium Chloride, Patent Blue V (E131), Propylhydroxybenzoate (E216), Methylhydroxybenzoate (E218), Water.


| | | | | |
| --- | --- | --- | --- | --- |
| Product code: 0974782 | | Price: £7.95 (incl VAT) | | |