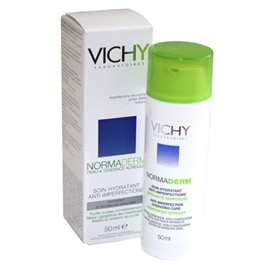 Click on image to enlarge
| | |
| --- | --- |
| Price: £10.72 (incl VAT) | Sorry, this product is no longer available. |
Unfortunately, this product has been discontinued by the manufacturer. We suggest Vichy Normaderm Tri-Activ Anti-Imperfection Hydrating Care as a suitable alternative.

Vichy NormaDerm Anti-Imperfection Hydrating Care For Acne Prone Skin.
Moisturising cream formulated for oily, spot prone skin.
Dual action formula specifically targets dilated pores, shiny patches, redness and recurrent imperfections.
Transforms skin in 4 weeks.
Hypoallergenic, non comedogenic* & tested on sensitive skin.
50ml pump-action bottle.
Those who find it hard to find a moisturiser that is light on the skin, hydrating and does not encourage spot production, can finally be reassured by Vichy NormaDerm Anti-Imperfection Hydrating Care Cream. Many people of all ages, suffer with over active sebaceous glands, resulting in irregular sebum production and inflammation within the pores. Finding a moisturiser that does not clog the pores if very difficult. The dual action formula in NormaDerm works effectively at reducing the appearance of spots and imperfections whilst keeping the skin hydrated. Vichy NormaDerm Anti-Imperfection Hydrating Care works in 2 ways:
1. Zincadone+ - A powerful agent that creates a matt finish on the surface and refines impurities and shine. Skin will feel smooth and silky from the very first time you use it.
2. Intra-Pore Technology - A blend of soothing ingredients that target the very heart of the problem. It reduces epidermal irritation and blemishes begin to fade.
Directions: Firstly cleanse skin and pat dry. Apply a small amount to the face and gently massage in. Use every morning.
For best results, use Vichy NormaDerm Anti-Imperfection Hydrating Care during the day, followed by Vichy NormaDerm Night at bedtime. At night, your sebum production increases and reaches its peak whilst you sleep. NormaDerm Night helps to counteract the amount of oil released in the skin and without drying skin out. You will wake up feeling fresh, soft and without a shiny patch in sight!

Results after 4 weeks: Complexion will look visibly transformed. Imperfections will have reduced, surface texture will be smooth & soft, pores will have calmed and you will have much healthier looking skin.

*Will not aggravate or block pores.