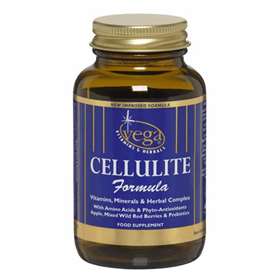 Click on image to enlarge



Price: £6.19 (incl VAT)
Sorry, this item is currently unavailable. Click here to receive notification when this product comes back into stock.
Part of the problem with increased cellulite build up is the lack of effective blood circulation to this fatty tissue. Regular detoxification of the body also helps to prevent fats and toxins building up in the skin tissue.

Cellulite Formula contains a combination of vitamins, minerals, amino acids and herbs that act to promote the breakdown and dispersion or cellulite and increase circulation, thus removing accumulated toxins from fatty tissues.

For the best results it is recommended that this product be taken as part of a general healthy eating and exercise plan.

Recommended for:

Those with cellulite of fatty build-up on the skin surface.

x30 V-Caps™ (green, two-piece vegetable cellulose capsule).
Please note: Herbs should be used with caution during pregnancy.

Each bottle contains 30 V-Caps™ (green, two-piece vegetable cellulose capsule).

Recommended Dosage: Adults – One to two capsules each day
with food or as directed by a healthcare professional.

Free from artificial additives, colours, flavours and preservatives, lactose, salt, sugar, corn, gluten, wheat, yeast, dairy, gelatin, genetically modified ingredients, hydrogenated fats, nut and peanut derivatives.

Not suitable for Kosher, vegetarian or vegan diets.

Ingredients per V-Cap™ : Ginkgo Biloba Leaf Extract 50:1, Equiv. to Herb (Standardised Extract, Min. 24% Ginkgofl avonglycosides, 6% Terpene Lactones) 500mg, Bilberry (Vaccinium Myrtillus) Fruit Extract 4:1, Equiv. to Herb (Standardised Extract, Min. 20% Anthocyanadins) 100mg, Acetyl L-Carnitine (Hydrochloride) 60mg, Kelp (Ascophyllum Nodosum) Seaweed Powder
60mg – Providing Min. 0.1% Iodine 60µg, Potassium (Citrate) 60mg, Vitamin C (as Calcium Ascorbate) 60mg, Choline Bitartrate 30mg, Inositol 30mg, Niacin (Vitamin B3 as Nicotinamide) 18mg NE, L-Arginine (Free Form) 10mg, L-Lysine (Hydrochloride) 10mg, L-Methionine (Free Form) 10mg, L-Tyrosine (Free Form) 10mg, Para Amino Benzoic Acid (PABA) 10mg, Pantothenic Acid (Vitamin B5 as Calcium Pantothenate) 6mg, Vitamin B6 (as Pyridoxine Hydrochloride) 2mg, Vitamin B2 (Riboflavin) 1.6mg, Vitamin B1 (as Thiamin Hydrochloride) 1.4mg, Manganese (Citrate) 0.25mg, Folate (as Folic Acid) 200µg, Biotin (Vitamin H) 150µg, Selenium (as Sodium Selenite) 100µg, Copper (Citrate) 50µg, Vitamin B12 (Cyanocobalamin) 1µg, Encapsulated in a vegetable cellulose capsule with vegetable magnesium stearate (lubricant).