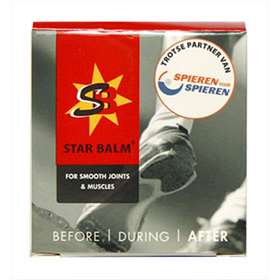 Click on image to enlarge



Price: £1.90 (incl VAT)
Sorry, this item is currently unavailable. Click here to receive notification when this product comes back into stock.
Star Balm is an easy to apply balm that's suitable for the treatment of sore muscles and joints.
Made from a combination of herbal ingredients with carefully chosen natural oils.
Handy sized 10g pot.
Easy to apply and non-staining.
100% Herbal Ingredients.
How to use Star Balm:
Apply Star Balm to the affected area up to 4 times a day.

Also available in the Star balm Range:
150ml spray & Extra Strength Balm 25g

Warning:
Do not apply Star Balm products on irritated skin, mucous membranes or in the eyes.
Use with precaution on younger children.

Ingredients:
Menthol, Dementholised Mint Oil, Clove Oil, Cassia Oil, Eucalyptus Oil, Pine Tree Oil, Bees Wax, Vaselin, Monsan Wax, Ceresine Wax, Methyl Nicotinate.