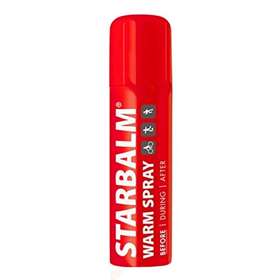 Click on image to enlarge



Price: £4.90 (incl VAT)
Sorry, this item is currently unavailable. Click here to receive notification when this product comes back into stock.
A single spray treats a large surface of the body



Star Balm Muscle Spray 150ml is the perfect way to treat those aches and pains in hard to reach places. Star Balm Muscle Spray can be applied before and after sport to warm up the muscles before sport to prevent and treat injuries and muscular swelling.
150ml warm spray.
100% herbal ingredients.
Suitable for mild sport injuries.
Warms muscles before exercise.
Easy to apply in hard to reach places.
Also available in The Star Balm Range:
Star Balm 10g & Extra strong sports balm

Directions:
The Star Balm spray should be applied to the affected area and should be held 15cms from the skin.
Do not apply Star Balm muscle spray to irritated or broken skin, mucous membranes and avoid contact to the eye area.

Warnings:
For external use only.
Avoid inhalation and contact with the eyes and other sensitive body areas.
May cause an allergic reaction in some individuals with sensitive skin.
It is advised to test the muscle spray on a small area before use.
Keep container away from sun and temperatures exceeding 50&degC.
Do not spray on hot surface or onto a naked flame.
This Star Balm Muscle Spray is flammable.

Ingredients:
Menthol, Methyl Nicotinate, Borneol, Clove Oil, Eucalyptus Oil, Pine Tree Oil, Isopropanol, Ethyl Alcohol.