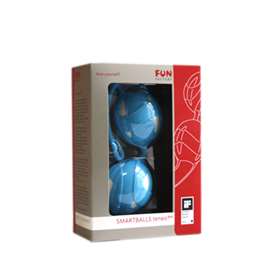 Click on image to enlarge
| | |
| --- | --- |
| Price: £11.99 (incl VAT) | Sorry, this product is no longer available. |
Fun Factory SmartBalls Teneo Duo

These extraordinary geisha balls stimulate, massage and provide targeted pelvic floor training, whilst their soft to intense vibrations heighten intimate pleasure.

Smartballs are beautifully designed with a soft, silky surface and a slightly elliptical form for discreet, sensual stimulation. No batteries are required, as the SmartBalls work using the motion of your body.

Material: Smartballs are made of Elastomed, a material which is skin-safe, extremely durable and easy to clean.

Quality: The patented manufacturing process makes Smartballs the quietest love balls in the world!

Use: Smartballs are inserted vaginally. Every movement will cause the internal metal balls to rotate, creating soft to intense vibrations that stimulate, massage and train.

Why use SmartBalls?... because trained vaginal muscles and pelvic floor will intensify intimate pleasures and help prevent stress incontinence suffered by many women at some stage in their life.

Recommended by German midwives these balls are great for beginners and those wanting to exercise their muscles without a tedious exercise regime.

Using SmartBalls to train your pelvic floor muscles:
First insert the ball furthest from the rope. You may want to use a small amount of lubricant such as Pjur Woman to help make insertion more comfortable (not too much though otherwise they will keep slipping out!)
Then gently push in the second ball so that both balls are in position inside your vagina rather like a tampon. Remember to leave the cord hanging out so that you can remove the balls later.

Now try walking around. It is much more beneficial to the muscles if you do not stay seated. Let gravity help you focus on keeping the balls inside you. If you find the balls start to slide out, don't panic just keep practising trying to hold them in. Spend 20 to 30 minutes each day for the next 6 to 12 weeks and you should start to notice a difference.

The great thing about SmartBalls is that you can use them discreetly -exercise on the go for example whilst washing-up or even taking the dog for a walk. They are silent inside you so no one but you will know they are there!

Colours may vary

Due to the nature of these items we will only accept returns if the product is defective.