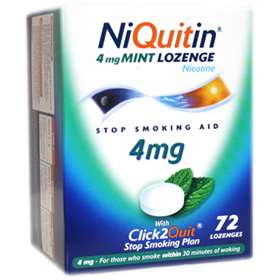 Click on image to enlarge



Price: £13.19 (incl VAT)
Sorry, this item is currently unavailable. Click here to receive notification when this product comes back into stock.
Niquitin CQ Lozenges Step 1 4mg - Give your will power a fighting chance.
Original flavour;
72 Niquitin lozenges;
4mg of Nicotine per lozenge;
For those who smoke 30 minutes or longer after waking.
Niquitin CQ Lozenges Step 1 4mg relieves nicotine withdrawal symptoms, including cravings, associated with smoking cessation. If possible use Niquitin lozenges as part of a smoking cessation plan.

Directions for Use:
Put Niquitin lozenge in you mouth and move from on side to the other until completely dissolved. Do not exceed 15 lozenges per day.

Step 1: Take 1 lozenge every 1 to 2 hours, for 6 weeks.
Step 2: Take 1 lozenge every 2 to 4 hours, for 3 weeks.
Step 3: Take 1 lozenge every 4 to 8 hours, for 3 weeks.

Ingredients:
Nicotine Polacrilex 22.2mg, Mannitol (E421), Sodium Alginate, Xanthan Gum, Potassium Bicarbonate, Calcium Polycarbophil, Sodium Carbonate, Aspartame (E951), Magnesium Stearate.

Please note:

We cannot ship Niquitin lozenges to the United States of America.

The picture depicts the mint flavour - these tablets are original.