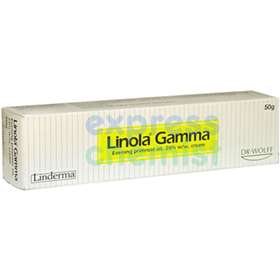 Click on image to enlarge



Price: £5.11 (incl VAT)
Sorry, this item is currently unavailable. Click here to receive notification when this product comes back into stock.
Linola Gamma, Evening Primrose Oil, 20% w/w, Cream.
20% Evening Primrose Oil in a soothing cosmetic cream.
Relieves chronic and acute dry, inflamed skin conditions, including eczema and neurodermatitis.
Provides cooling relief from itching (pruritus).
Perfume and lanolin free.
Also available in 250g size.
About Linola Gamma...

Linola Gamma is formulated to treat the following: Eczema, Dermatitis, Psoriasis, Ichthyosis, Xeroderma, Senile Pruritus, Winter itch and all dry skin conditions. The high strength evening primrose oil in Linola Gamma helps to replenish the two types of fatty acids found in the epidermis (which it is often deprived of, especially in atopic eczema). These acids are known as Linoleic Acid and Gamma Linoleic Acid and are essential for maintaining healthy skin but are not made naturally by the body. Evening primrose oil contains these two acids and by combining it with a rich cream, it sinks into the top layers of skin to immediately re-hydrate, soothe and soften.

Directions:
Apply the cream evenly 2 or 3 times a day, or as often as required. Treat the affected areas and rub in well until completely absorbed.
The cream is suitable for use anywhere on the body, including the face and can be used by all ages. Do not apply to broken skin.

In individual cases, Linola Gamma leads to contact dermatitis. If you are allergic to evening primrose oil, potassium sorbate or propylene glycol it is recommended that you do not use this product. We suggest that you try a patch test first, if you have not used this product before.

Ingredients: Evening Primrose Oil • Glycerol Monostearate • Isopropyl Myristate • Propylene Glycol • Synthetic Beeswax • Aluminium Magnesium Silicate • Sorbitan Laurate • Macrogol (10) Stearyl Ether • Macrogol Stearate 2000 • Citric Acid Monohydrate • All-rac-Alpha Tocopherol (E307) • Phenoxyethanol • Butyl Parahydroxybenzoate • Ethyl Parahydroxybenzoate (E214) • Isobutyl Parahydroxybenzoate • Methyl Parahydroxybenzoate (E218) • Propyl Parahydroxybenzoate (E216) • Potassium Sorbate (E202) • Disodium Hydrogen Phosphate (E339) • Purified Water.