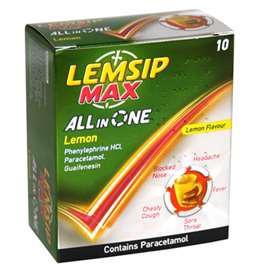 Click on image to enlarge
| | |
| --- | --- |
| Price: £4.99 (incl VAT) | Sorry, this product is no longer available. |
Lemsip's Max All In One Lemon Powder for Oral Solution contains a combination of ingredients which are effective in relieving the symptoms associated with colds and flu, including relief of aches and pains, sore throats, headaches, nasal congestion and lowering temperatures and chesty coughs.
10 Sachets.
A lemon flavoured, powdered formula.
Lemsip's most complete remedy, targeting all symptoms in one drink!
Contains 1000mg Paracetamol, 12.2mg Phenylephrine and 200mg Guaifenesin.
Reduces cold and flu symptoms.
Provides relief from nasal congestion, sore throats, chesty coughs, headaches and fever.
When cold and flu strikes they can leave you with multiple symptoms, including a headache, blocked nose, sore throat, body aches & pains and a chesty cough so take All In One action. Lemsip's Max All in One Lemon Sachets have a powerful formulation to treat ALL your major cold and flu symptoms, helping you get back to feeling like yourself. It is important to drink plenty of liquid when suffering from colds and or the flu.

Paracetamol is a well-known painkiller, analgesic. it is effective against aches and pains including headaches, and can also reduce fever.

Pseudoephedrine hydrochloride reduces swelling in the passages of the nose, nasal decongestant, which relieves a blocked or runny nose. All of the pseudoephedrine hydrochloride is released from the capsules gradually.

Guaifenesin is an expectorant that allows you cough up phlegm when suffering from a chesty cough.

Do not take if:
You are allergic or hypersensitive to any of the ingredients.
You are already taking products with paracetamol in.
You have a serious heart condition.
Have high blood pressure or a serious heart condition.
You are taking or have taken Monoamine Oxidase Inhibitors (MAOI antidepressants) within 14 days.
Dosage:
Adults and children 12 plus: Dissolve one sachet in hot, not boiling, water. Stir until dissolved. May be repeated every 4-6 hours. Maximum of 4 sachets in 24 hours.

Allergen advice:
Contains Paracetamol.

Caution:
DO NOT EXCEED STATED DOSE and DO NOT GIVE TO CHILDREN UNDER 12.

Active Ingredients per Sachet:
Paracetamol 1000mg, Phenylephrine hydrochloride 12.2mg and Guaifenesin 200mg. Other Ingredients: Guaifenesin 200mg, Ascorbic acid, Sucrose, Citric acid, Sodium citrate, Lemon flavour no. 1, Aspartame (E951), Saccharin sodium, Curcumin WD.