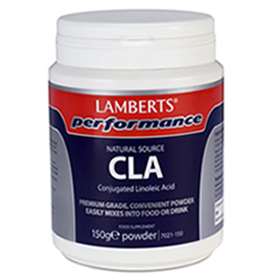 Click on image to enlarge



Price: £25.99 (incl VAT)
Sorry, this item is currently unavailable. Click here to receive notification when this product comes back into stock.
Lamberts Conjugated Linoleic Acid Powder 150g
Naturally present in our modern diet but in significantly lower amounts than some researchers believe necessary, Conjugated Linoleic Acid is believed to influence the way our bodies store fat. Normally, CLA would be present in our diet in the form of beef products, however, modern farming methods and the move away from meat consumption has greatly reduced most people's intake. Studies have shown that CLA may help people to maintain an optimum balance between body fat and lean muscle when it is used in conjunction with regular exercise and a healthy diet. CLA is therefore likely to be of interest to athletes on very low fat diets, and those people concerned about body composition and shape.

Lamberts CLA powder contains Tonalin CLA, which is a natural conjugated linoleic acid derived from the safflower plant. It is the most researched CLA available and the unique process ensures that it contains the most bioactive elements of CLA.
Formula
Each 5g of Tonalin CLA powder provides: 2.85g
Dosage
Take one 5g portion (heaped teaspoon) per day. The powder has a mild, pleasant taste and can be eaten from the spoon or added to hot or cold drinks (milkshakes are perfect). Alternatively, sprinkle it onto cereal or stir it into your food just before eating. Do not cook with this powder.