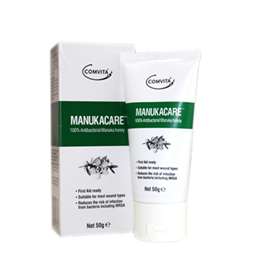 Click on image to enlarge



Price: £10.99 (incl VAT)
Sorry, this item is currently unavailable. Click here to receive notification when this product comes back into stock.
Contains New Zealand UMF Active Manuka Honey (Mel) 100%

Comvita Manukacare protects, shields and hydrates the skin naturally. Manuka Honey has well researched antibacterial properties and is also known to be anti-fungal.

Comvita Manukacare 18+ is tested to ensure it contains a high level of UMF activity. UMF (Unique Manuka Factor), first identified at New Zealand's Waikato University, is a phytochemical activity additiona; to the hydrogen peroxide in ordinary honeys, making UMF Manuka special amongst the honeys of the world.

Ingredients: New Zealand Manuka Honey (Mel) 100%.