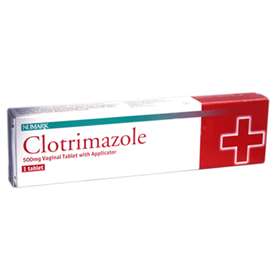 Click on image to enlarge



Price: £6.50 (incl VAT)

Numark Clotrimazole Vaginal Tablet With Applicator - For the treatment of thrush.

This Numark pessary contains clotrimazole which is an anti-fungal. Thrush is caused by yeast and usually occurs via intestinal excretions and personal contact. It often lives harmlessly in the vagina but it can develop into an infection which starts in the vagina and often spreads to the surrounding areas. The symptoms may include:

Itching of the vagina and surrounding area.
Redness and swelling of the tissues of the vagina and vulva.
Soreness of the vagina and vulva.
A white non-smelling discharge from the vagina.
Directions for Use:
Use at night before you go to sleep.
Do not use whilst on your period. Remove the applicator from the packaging.
Remove tablet from the aluminium package and place it firmly into the open end of the applicator.
Carefully insert the applicator as deeply as is comfortable. Carefully push the inner plunger to release the tablet.

Ingredients:
CLOTRIMAZOLE, LACTOSE, ADIPIC ACID, PREGELATINISED MAIZE STARCH, SODIUM HYDROGEN CARBONATE, MICROCRYSTALLINE CELLULOSE, MAGNESIUM STEARATE, MAIZE STARCH, STEARIC ACID, COLLOIDAL SILICON DIOXIDE AND POLYSORBATE 80.

Warnings: Do not use if you are allergic to clotrimazole. Do not use if you are pregnant. Do not use if your under 16 or over 60. Do not use if this is the first time you have had thrush. Do not use if you or your partner have ever had an STD. Do not use if this is your second infection in the last 6 months. Do not use if you are taking amphotericin or other polyene antibiotic e.g. nystatin.




| | | | | |
| --- | --- | --- | --- | --- |
| Product code: 1072933 | | Price: £6.50 (incl VAT) | | |