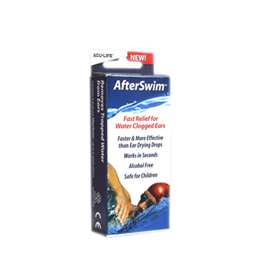 Click on image to enlarge



Price: £4.50 (incl VAT)
Sorry, this item is currently unavailable. Click here to receive notification when this product comes back into stock.
AfterSwim by Acu-Life offers fast relief from water-clogged ears without the use of drops or isopropyl alcohol.
Contains 4 dual use AfterSwim, up to 8 applications.

Faster and more effective than ear drying drops.

Safe for use on the whole family.

Alcohol-free.

Works in seconds.

Acu-Life AfterSwim removes trapped water from the ears caused by swimming, bathing, showering or any other water activity. Unlike ear drying drops AfterSwim is easy to use and safe for the whole family.

The pack contains 4 slimline sponges with two tapered ends. Each end can be used to remove water so there is enough for 8 applications. AfterSwim absorbs 5 times the amount of water an average ear canal can hold.

Directions for Use: Tilt ear with trapped water toward the floor. Insert AfterSwim into the ear canal and hold for 10 seconds. If needed, repeat with the other end. Be careful not to over-insert AfterSwim. It only needs to be inserted far enough to break the surface level of the trapped water.

Caution: Ask a doctor before using if you have ear drainage or discharge, pain, irritation or a rash in the ear, dizziness or have had ear surgery.