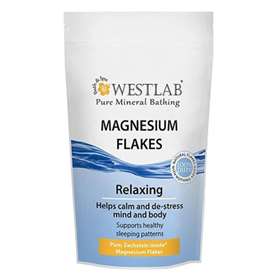 Click on image to enlarge



Price: £4.79 (incl VAT)

Westlab Magnesium Flakes help relax muscles and support a restful and peaceful night's sleep. Bathing in magnesium flakes is also an effective way to top up your magnesium levels. 80% of us are thought to be deficient in Magnesium, which is an important mineral, used in an amazing 300 reactions in the body, helping to induce sleep, regulate blood pressure and essential for bone health.
Helps calm and de-stress mind and body.
Supports health sleeping patterns.
An excellent choice for transdermal mineral bathing.
Bathing instructions for adults:
Dissolve 1 - 4 cups (approximately 250g-1kg) of flakes in a warm bath of around 37°C.
Relax and soak for 20 minutes 1-2 times a week.
In Pregnancy: Use 1-2 cups (250-500g) and ensure the bathing water is around 36°C and never higher than normal body temperature.

Foot bath instructions:
Dissolve 1-2 cups (approximately 250-500g) of the flakes in a 5 litre foot bath of 37°C .
Relax and soak feet for 20 minutes.
In Pregnancy: use a max of 250g per foot bath.

Precautions:
Seek advice of a healthcare professional before use if you are suffering from a medical condition, are taking medical treatment or have very sensitive skin.
Do not use on broken skin.
Avoid contact with the eyes.
If irritation occurs rinse with water.
If irritation persists, seek medical attention.
Keep out of reach of children.

Ingredients:
Magnesium Chloride (Magnesium Chloride Hexahydrate)





| | | | | |
| --- | --- | --- | --- | --- |
| Product code: WLB6 | | Price: £4.79 (incl VAT) | | |