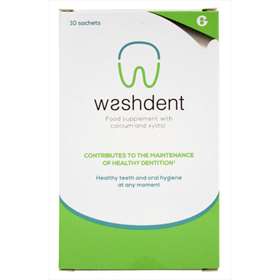 Click on image to enlarge



Price: £4.25 (incl VAT)

Washdent is a food supplement that contains calcium and just two sachets of Washdent will contribute to maintaining healthy teeth. You can use up to three sachets a day and use it anywhere.

Washdent contains eucalyptus and mint essential oils which create a great taste and promote fresh breath, also contains Xylitol a natural sweetener which works with the Calcium granules to clean debris from your teeth.
Healthy teeth and oral hygiene.
Mouth wash in a sachet.
No water needed.
Complements twice daily brushing.
Carry with you and use on the go.
Directions for Use:
Washdent can be used every day by adults and children over 15 years old.
Take a sachet after meals, or at any other time during the day.
With your tongue rub over teeth for 4-5 seconds per side, front and back.
Swill the washdent (no water needed) around your mouth for at least 10 seconds and swallow.
Two washdent sachets per day contribute to healthy dentition.
Take up to 3 sachets per day.

Warning:
Do not exceed the daily recommended intake. Excessive consumption may produce laxative effects.
This food supplement does not replace a varied and balanced diet and healthy lifestyle.
Seek advice from your Pharmacist or Doctor.

Ingredients:
Water • Sweetener: Xylitol • calcium salts of orthophosphoric acid • Stabilizer: glycerol • Gelling agent: xanthan gum • Thickener: sodium carboxymethylcellulose • Preservatives: potassium sorbate and sodium benzoate: Essential oils: Mentha x piperita L and Eucalyptus globus L •






| | | | | |
| --- | --- | --- | --- | --- |
| Product code: 4080552 | | Price: £4.25 (incl VAT) | | |