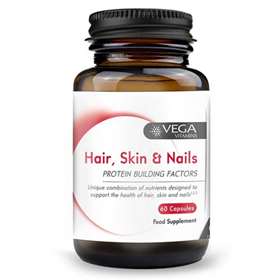 Click on image to enlarge



Price: £10.75 (incl VAT)
Sorry, this item is currently unavailable. Click here to receive notification when this product comes back into stock.
Vega hair, skin and nails formula provides essential vitamins and minerals that play a role in the formation of energy from foods to generate new cells for tissue growth and renewal. The Vega formulation is also fortified with a powerful combination of antioxidants to bolster the body's defense mechanism. Many nutrients in Vega hair skin nails capsules also support the formation and integrity of connective tissue such as collagen, which forms an integral part of hair, skin and nails.

Free From: Artificial additives, colours, flavours and preservatives; lactose, salt, starch and sugar; corn, gluten, soy, wheat and yeast; dairy, gelatin, genetically modified ingredients, hydrogenised fats, nut and peanut derivatives.

Directions for use:
As a food supplement - Adults - One to two capsules daily with food or as directed by a healthcare professional.

Suitable for:
Kosher, vegan and vegetarian diets.

Ingredients:
1 Capsule a day typically provides -
Magnesium (Oxide) 60mg, MSM (Methyl Sulfonyl Methane) 60mg, Soy Protein Isolate (Providing, Min. 80% Protein) 60mg, Vitamin C (as Calcium Ascorbate) 60mg, L-Methionine (Free Form) 30mg, Choline Bitartrate 25mg, Inositol 25mg, Silicon (as Silicic Acid) 25mg, Niacin (Vitamin B3 as Nicotinamide) 18mg NE, Alpha Lipoic Acid 10mg, Para Amino Benzoic Acid (PABA) 10mg, Vitamin E (as D-Alpha Tocopherol Acetate) 15iu 10mg α-TE, Zinc (Citrate) 7.5mg, Iron (Citrate) 7mg, Pantothenic Acid (Vitamin B5 as Calcium Pantothenate) 6mg, Vitamin B6 (as Pyridoxine Hydrochloride) 2mg, Vitamin B2 (Riboflavin) 1.6mg, Vitamin B1 (as Thiamin Hydrochloride) 1.4mg, Folate (as Folic Acid) 200µg, Manganese (Citrate) 0.25mg, Biotin (Vitamin H) 150µg, Iodine (as Potassium Iodide) 150µg, Selenium (as Sodium Selenite) 100µg, Copper (Citrate) 100µg, Vitamin D2 (Ergocalciferol) 200iu 5µg, Vitamin B12 (Cyanocobalamin) 1µg.

Vega hair, skin and nails formula also available in 30 capsules.