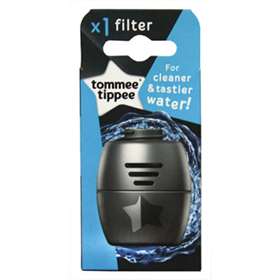 Click on image to enlarge



Price: £4.55 (incl VAT)
Sorry, this item is currently unavailable. Click here to receive notification when this product comes back into stock.
Tommee-Tippee Filter Replacement is used to clean water with every sip, so only good and tasty things go in your little one's tummy.
Removes 99.9% of giardia and cryptosporidium.
Reduces chlorine taste and smell.
Reduces lead.
BPA free.
Happy planet: 1 filter can replace 400 plastic bottles.
For use with our active filter bottle.
For cleaner and tastier water!
Directions of Use:
1. Remove the filter from all packaging.
2. Submerge the filter in water for at least 20 minutes. This will thoroughly wet the filter to ensure easy flow from first use.
3. Insert the filter into the top of the bottle lid, and gently turn clockwise until it hits the stop. It is in the correct position when the grills on the filter alight with the spout. Do not over tighten.
4. Put the lid back on the bottle and tighten until it stops. Do not over tighten.

Cautions/Warnings:

Always use this product with adult supervision. Accidents have occurred when babies have been left alone with drinking equipment due to the baby falling or if the product has disassembled.
Never use spouts as a soother. Continuous and prolonged sucking of fluids will cause tooth decay. Tooth decay in young children can occur even when non-sweetened fluids are used. This can occur if the baby is allowed to use the cup for long periods through the day and particularly through the night, when saliva flow is reduced or if it is used as a soother.
Always check food temperature before feeding.
Not suitable for microwave use apart from sterilising.
This cup is designed to filter water. It should not be used for other beverages.