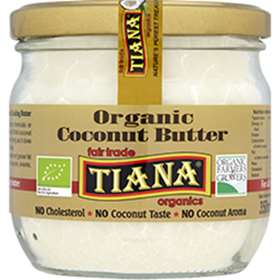 Click on image to enlarge



Price: £4.29 (incl VAT)
Sorry, this item is currently unavailable. Click here to receive notification when this product comes back into stock.
Tiana Organic Coconut Butter is a smooth, creamy, high quality coconut cooking butter, suitable for use in cooking, frying and baking. As it has a naturally high resistance to heat, coconut butter will not burn during cooking or frying your food.

Unlike other oils or fats, it is not absorbed into food, which makes it ideal for deep fat frying. It does not affect the taste of food and can be used as an alternative to cooking oils and goose fat when frying or roasting or as a substitute for margarine and other spreads on toast and sandwiches. It can also be used as a dairy-free alternative to butter when baking.

Perfect for use in Asian dishes, it can be used for sauces, soups, stews and casseroles.


350ml jar.

100% organic coconut butter.

For cooking, frying and baking.

Suitable for Vegetarians and Vegans.

No coconut taste or aroma.

No added sugar, sweeteners or salt.

No cholesterol, GMO, artificial colours or flavours, preservatives, starch, milk, lactose, soya, gluten, wheat or yeast.


Directions for use: Store at room temperature away from direct sunlight. If stored above 29°c, will be as a liquid.

Ingredients: 100% Organic Coconut Butter.