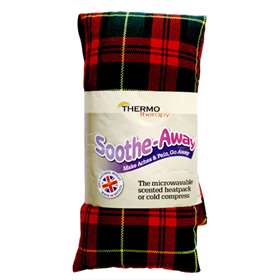 Click on image to enlarge



Price: £3.10 (incl VAT)
Sorry, this item is currently unavailable. Click here to receive notification when this product comes back into stock.
Soothe-Away heatpacks are made from 100% natural wheat, infused with the relaxing floral, herbaceous scent of lavender. The scented heatpack can be heated in the microwave to soothe aches and pains, or can be used as a cold compress for external bruising as swelling relief. Soothe-Away heatpack can be used for the neck, back, shoulders knees etc.
Soothe away is a natural product so it can be used as often as needed.
For use as a heatpack or a cold compress.
Soothes aches and pains.
Tartan design.
Lavender scented.
Instructions for heatpack:
Heat for no more than 1 minute 30 seconds in a microwave oven of upto 1000 watts. Do not overheat, take care when removing from the microwave oven, then allow to stand for 1 minute before use.

For use as a cold compress:
Place in a sealed plastic bag and freeze for at least 2 hours.

Warnings:

Do not place near sensitive skin or open wounds.
Diabetics and people with circulatory problems should ask a medical professional to check if it is safe for them to use.
If you are unsure of this products suitability for what you require, please consult a medical professional.
Soothe-Away can be used as often as required providing it is allowed to cool fully between uses.