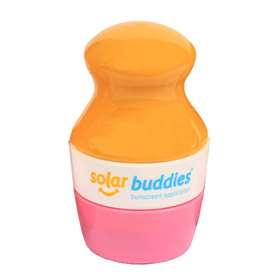 Click on image to enlarge



Price: £6.20 (incl VAT)

The easy, mess free and best way to apply suncream and lotion for children and babies. Great for use in schools and nurseries for adults and kids.

The Solar Buddies are also a great sun safe teaching tool to allow your children to understand the importance of protecting their skin. Adult supervision is recommended when your child is applying their own sunscreen to make sure of complete coverage.

Sunscreen not included
Pink Solar Buddies Applicator.
Easy grip.
Less mess and no waste.
Refillable
Protection for your children whilst out and about
Not to be used with sunscreens with an oil/watery-like consistency. Do not use with Ambre Solaire or P20 applications as the ingredients in these products may affect the Applicator.

Also available in Blue

Directions for Use:
Not suitable for children under 36 months (due to small parts).
Adult supervision required to provide full coverage.
It is recommended that the buddie should not be shared due to hygiene purposes.

Note:
Do not leave buddie in direct sunlight and always replace the lid when not in use.
Do not leave contents in Solar Buddie for a prolonged period of time.
Wash out and dry sponge thoroughly once all the contents have been used.
It is recommended the sponge be replaced every 2-3 months if in constant use.
If using at the beach ensure all excess sand is removed before using your Solar Buddie.
Use a sunscreen with a minimum SPF30, 5 star rating (covers UVA & UVB rays).
Apply sunscreen at least 20 minutes before going out in the sun and reapply every 2 hours to ensure ongoing protection.





| | | | | |
| --- | --- | --- | --- | --- |
| Product code: 52902Q | | Price: £6.20 (incl VAT) | | |