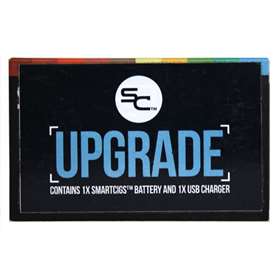 Click on image to enlarge



Price: £2.99 (incl VAT)

A Smart Cigs Upgrade that contains a battery and USB charger.
1 x battery.
1 x USB charger.
Instructions:
To charge your Smart Cig battery simply screw the end of the battery into the USB charger provided and place into a USB port.
The battery will take 2-3 hours to achieve a full charge. You will know when your Smart Cig battery is charging as the LED on the top will glow red. When the LED turns green your Smart Cig is ready for use.
The LED at the end of the battery will flash 3 times to indicate when the battery needs recharging.
Only use the USB charger provided in this pack as it has the correct output voltage.
Please note that using other charging equipment may result in damaging your battery.
Do not leave your battery unattended whilst charging.
Always vape responsibly.
Smart Cig products are intended for the use of people over 18.





| | | | | |
| --- | --- | --- | --- | --- |
| Product code: upgrade | | Price: £2.99 (incl VAT) | | |