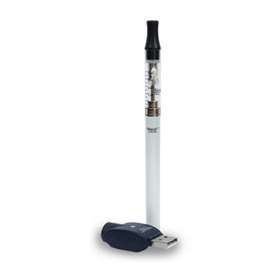 Click on image to enlarge



Price: £10.20 (incl VAT)

SmartCigs Mini Tank Kit.

If you are new to e-cigarettes, the mini tank cigarette starter kit is a perfect introduction and place to start. The kit contains a 1 high power white cover battery (enough power to keep you going all day), and a 0.9 ml clearomizer which allows you to enjoy the full rage of SmartJuice e-liquids providing total control over the enjoyment of vaping.
Concoct your favourite flavours by mixing the exciting range of tastes in a bursting array of cocktails.

This exciting vaping Smartjuice solution allows you to tailor exactly the right strength and taste for you. Presented in an economical and rechargeable sleek kit this an excellent first and chic introduction to a modern solution of e-smoking. They contain no tar, no carbon monoxide and none of the cancerous agents found in normal tobacco cigarettes.
1 x High Power SmartCigs Compact rechargeable battery (808D).
0.9 ml clearomizer.
1 x USB Express charger.
Mini Tank 808D USB Charger:
This handy device fits into any standard USB port and contains an updated internal chip.
It incorporates safety features to prevent overcharging.
A Green glow indicates it's fully charged.

Clearomizer:
These are fully compatible with your thread small compact battery.
All you need to do is twist the small black mouth piece out and fill your SmartJuice down the sides of the mini tank. Leave for a few minutes to allow the wick to soak up the liquid and screw onto your thread battery.









| | | | | |
| --- | --- | --- | --- | --- |
| Product code: 41656B | | Price: £10.20 (incl VAT) | | |