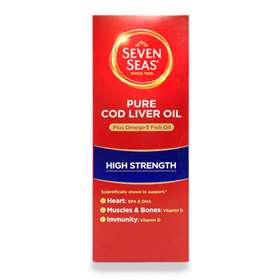 Click on image to enlarge



Price: £3.45 (incl VAT)
Sorry, this item is currently unavailable. Click here to receive notification when this product comes back into stock.
Seven Seas high strength cod liver oil is a rich natural source of Omega-3 that includes the nutrients EPA and DHA as well as vitamins A & D which are essential to good health.
Omega-3 Supports a healthy heart
Helps to maintain normal vision and brain function.
Vitamin D Helps maintain healthy bones, muscles and teeth, Supports a healthy immune system.
Vitamin E which
Helps protect against free radical and oxidative damage.
Dosage:
Adults over 15 years:
Two 5ml teaspoons daily.

Children over 11 years:
One 5ml teaspoon daily.

Can be taken on its own or mixed with milk or orange juice.
Women who are pregnant or planning a pregnancy should consult their doctor before taking vitamin or mineral supplements.
Food supplements are intended to supplement the diet and should not be regarded as a substitute for a varied diet and a healthy lifestyle.

Ingredients:
Cod Liver Oil, Fish Oil, Vitamin E, Vitamin D Prep. (Fractionated Vegetable Oil, Vitamin D).