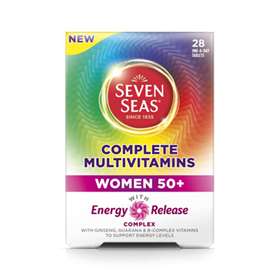 Click on image to enlarge



Price: £5.35 (incl VAT)

Seven Seas Complete Women 50+ Multivitamins are a complete A-Z blend of essential vitamins with minerals at levels tailored for daily health maintenance of women aged 50 and over. The formula provides seven key benefits to help women 50+ get the most out of life everyday.
A complete blend of vitamins with minerals for daily health.
Vitamin B6 & B12 which contribute to normal energy-yielding metabolism.
Thiamin contributes to the normal function of the heart.
Vitamin C and Zinc to help support the normal function of the immune system.
Calcium, vitamin D and magnesium for the maintenance of normal bones.
Zinc contributes to the maintenance of normal skin, hair and nails.
Pantothenic acid contributes to normal mental performance.
Dosage:
One tablet to be taken with a cold drink each day.
Do not exceed the recommended dosage.
Women who are pregnant or planning a pregnancy should consult their doctor before taking vitamin or mineral supplements.
Food supplements are intended to supplement the diet and should not be regarded as a substitute for a varied diet and a healthy lifestyle.
This product contains iron which, if taken in excess, may be harmful to very young children - Keep out of sight and reach.

Ingredients:
Dicalcium Phosphate, Magnesium Hydroxide Prep. (Magnesium Hydroxide, Starch), Vitamin C Prep. (Ascorbic Acid, Hydroxypropylmethyl Cellulose), Microcrystalline Cellulose, Vitamin E Prep. (Vitamin E, Gelatin, Silicon Dioxide), Tablet Coat (Hydroxypropylmethyl Cellulose, Hydroxypropyl Cellulose, Glycerol, Colours: Titanium Dioxide, Iron Oxides), Niacinamide, Silicon Dioxide, Stearic Acid, Zinc Oxide, Beta Carotene Prep. (Modified Food Starch, Isomalt, Beta Carotene, Starch, Sodium Ascorbate, Ascorbic Acid, Tricalcium Phosphate), Inositol, Calcium Pantothenate, Crosslinked Sodium Carboxy Methyl Cellulose, Vitamin B6, Magnesium Stearate, Ferrous Fumarate, Manganese Sulphate, Vitamin B2, Lutein Prep. (Lutein, Hydroxypropylmethyl Cellulose, Sucrose, Tocopherols, Ascorbyl Palmitate), Vitamin D Prep. (Sucrose, Acacia, Corn Starch, Fractionated Vegetable Oil, Vitamin D, DL Alpha Tocopherol), Guarana Extract (Guarana Seed Extract, Maltodextrin), Copper Sulphate, Vitamin B1 Prep. (Thiamin Mononitrate, Methylcellulose), Ginseng Extract (Ginseng Extract, Maltodextrin), Green Tea Extract (Green Tea Extract, Maltodextrin), Vitamin A Prep. (Sucrose, Maize Starch, Acacia Gum, Vitamin A Acetate, DL Alpha Tocopherol, Silicon Dioxide), Chromium Picolinate, Folic Acid, Vitamin K Prep. (Acacia Gum, Vitamin K, Sucrose), Potassium Iodide, Sodium Molybdate, Sodium Selenite, Biotin, Vitamin B12.




| | | | | |
| --- | --- | --- | --- | --- |
| Product code: 3711439 | | Price: £5.35 (incl VAT) | | |