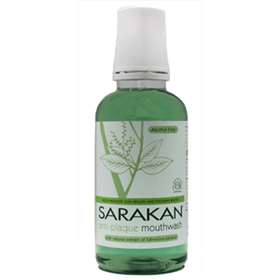 Click on image to enlarge



Price: £2.65 (incl VAT)
Sorry, this item is currently unavailable. Click here to receive notification when this product comes back into stock.
Sarakan anti-plaque mouthwash contains natural extract of Salvadora persica - the toothbrush tree - to help fight plaque and tartar and to promote and maintain gum health.

Rinsing with Sarakan mouthwash helps reduce plaque formation to keep your mouth feeling fresh and clean and your gums healthy.
Anti-plaque mouthwash.
Promotes gum health
Freshens breath.
Flavoured with peppermint, clove and geranium oils.
Alcohol free.
No fluoride.
No artificial colours.
Vegan.
Containing natural extract of Salvadora persica, also known as the Toothbrush tree which is renowned for its powerful antiseptic and beneficial properties. Salvadora has in its natural state as twigs, been used for centuries as an effective way to help keep teeth and gums clean and healthy.

Directions for Use:
Half fill the cap.
Do not dilute.
Rinse teeth and gums vigorously for 20 seconds, then spit out.

Caution:
Do not swallow.
keep out of the reach of children.

Because only natural colourings are used, there may be slight variations with time. This does not affect the product in any way.
Keep out of sunlight.

Ingredients:
Aqua • Glycerin (non-animal) • Hamamelis Virginiana Distilate • Polysorbate 20 • Salvadora Persica • Cetyl Pyridinium Chloride • Mentha Arvensis Oil • Mentha Piperita Oil • Eugenia Caryophyllata Oil • Pelargonium Roseum Oil • Limonene • Citronellol • Geraniol • CI 75810 (Chlorophyll) •