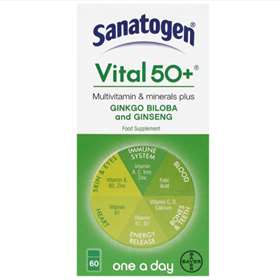 Click on image to enlarge



Price: £7.35 (incl VAT)

Sanatogen Vital Complete 50+ multivitamins and minerals with Ginkgo and Ginseng for health and vitality.
Sanatogen Vital 50+ is a complete formulation with 22 essential vitamins and minerals specially designed for adults 50 years old and over to help maintain health and vitality.
High levels of B Vitamins such as B1 and B2 help to support energy levels, whist plenty of Vitamins A and C help to support your immune system. As you get older, your daily nutritional needs change. That's why Sanatogen Vital 50+ contains Gingko Biloba, Ginseng, plus Iron and Calcium to help ensure you get the most out of life.

When taken once a day, it helps to:

Maintain healthy bones, teeth and gums.
Maintain healthy eyes and skin.
Maintain a healthy immune system.
Maintain a healthy metabolism.
Maintain a healthy heart and circulation.
Maintain long term health.
Sanatogen Vital 50+ is free from:
Artificial sweeteners, flavours and preservatives.
Soya.
Yeast.
Lactose.
Dariy
Gluten.
Gelatin.
And is suitable for vegetarians.
Directions for use: Take one tablet a day with water.

Cautions and warnings:
Taking more than the recommended daily intake may be harmful.
This product contains Vitamin A. Do not take if you are pregnant or likely to become pregnant, except on the advice of a doctor or antenatal clinic. This product contains Gingko and Ginseng.
If you are under medical supervision, consult your doctor before taking this product. Keep in a cool, dry place out of reach and sight of young children. This product contains Iron, which is harmful to young children if taken in excess.
Sanatogen Vital 50+ should not replace a well-balanced diet or a healthy lifestyle.

Ingredients:
Dicalcium phosphate, Cellulose, Vitamin C (Ascorbic acid), Magnesium oxide, Potassium chloride, Ferrous fumarate, Hydroxypropyl methylcellulose, Zinc oxide, Niacin (Nicotinamide), Vitamin E (DL-alpha-tocopheryl acetate), Magnesium stearate, Modified starch, Cross-linked sodium carboxy methyl cellulose, Silicon dioxide, Colours (Titanium dioxide, Iron oxide), Maltodextrin, Calcium pantothenate (Pantothenic acid), Sugar, Pyridoxine hydrochloride (vitamin B6), Manganese sulphate, Starch, Glycerol, Mannitol, Korean Ginseng extract, Copper sulphate, Thiamine mononitrate (Thiamin), Riboflavin, Retinyl acetate (vitamin A), Acacia, Hydroxypropyl cellulose, Folic acid (Folacin), Triglycerides, Antioxidant (tocopherol), Biotin, Chromic sulphate, Sodium selenite, Ginkgo biloba extract, Sodium molybdate, Potassium Iodide, Cholecalciferol (vitamin D), Vitamin B12






| | | | | |
| --- | --- | --- | --- | --- |
| Product code: 2320497 | | Price: £7.35 (incl VAT) | | |