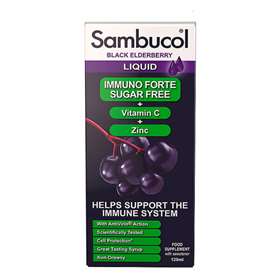 Click on image to enlarge



Price: £7.10 (incl VAT)
Sorry, this item is currently unavailable. Click here to receive notification when this product comes back into stock.
A strong immune system helps you to fight colds, flu and other infections. Sambucol Immuno Forte Sugar Free contains Vitamin C and Zinc which are required by the body for the normal functioning of the immune system.
Aids the immune system to fight infections
Black elderberry Food Supplement.
Contains naturally occurring fruit sugars.
Free from artificial colour, flavour and gluten.
No added sugar.
Black Elderberries contain naturally occurring flavonoids. The unique preparation method of the berries in Sambucol preserves and maximises the naturally occurring health benefits of the Black Elderberry.

Use throughout the year to support your immune system

Recommended Daily Dose:
Adults:
10-15ml (23 teaspoons)

Children 3-12 years:
5-10ml (1-2 teaspoons)

Nutritional Information per 10ml:
Black Elderberyy 3.8g, Vitamin C 110mg and Zinc 2.6mg

Caution:
Not suitable for children under 3 years.
Do not exceed the recommended intake.
Keep out of sight and reach of children.
Consult your healthcare professional before taking if you are under medical supervision, on medication,pregnant or are breastfeeding.
Not to be taken on an empty stomach.

Ingredients:
Black Elderberry Juice (Sambucus nigra) (AntiVirin) • Sweetener: Sorbitol • Vitamin C (Ascorbic Acid) • Natural Flavoring: Raspberry (Rubusidaeus) • Acidity Regulator: Citric Acid • Zinc Gluconate • Preservative: Potassium Sorbate •