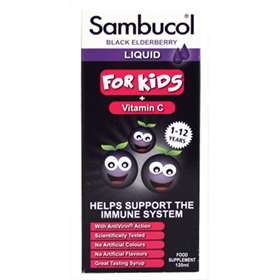 Click on image to enlarge



Price: £7.35 (incl VAT)
(Buy any 3 or more Sambucol products and save 5%)
Price: £7.35 (incl VAT)
(Buy any 3 or more Sambucol products and save 5%)
Sambucol Black Elderberry Extract For Children has a laboratory-tested antioxidant formula, uniquely prepared to maximise the natural benefits of the elderberry, specifically prepared for children.

Sambucol is prepared with an original formula using the elderberry and contains nearly five times the level of anthocyanins (natural antioxidants) of the blueberry.
120ml.
For children.
Contains vitamin C.
Kosher.
Gluten-free.
Free from artificial colours and flavours.
Unique extract.
Supports immune system.
High antioxidant levels to protect cells.
Directions for use:
Recommended daily dose: 1-6 years 5ml, 7-12 years 10ml.

For winter use: 1-6 years 10ml twice daily, 7-12 years 10ml-15ml twice daily.

Cautions:
Food supplements must not replace a balanced and varied diet or healthy lifestyle.
In the event of a fever or other persistent condition, consult a healthcare professional.
Ingredients:
Glucose syrup, Black Elderberry Juice (Sambucus nigra)(AntiVirin), Vitamin C (Ascorbic Acid),Acidity Regulator: Citric Acid, Preservative: Potassium Sorbate.


Product code: 2681047
Price: £7.35 (incl VAT)
(Buy any 3 or more Sambucol products and save 5%)