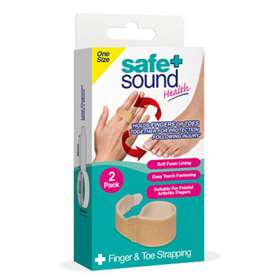 Click on image to enlarge



Price: £2.65 (incl VAT)
Sorry, this item is currently unavailable. Click here to receive notification when this product comes back into stock.
Safe + Sound Finger & Toe Strapping has been designed to hold fingers or toes together for protection following injury, to provide comfort for painful arthritic fingers or for keeping toes straight when suffering from overlapping, crooked or hammer toes. This finger and toe strapping has a non-slip soft foam lining provides both comfort and support, and the one size fits all design and adjustable easy touch fastening eliminates the need for sticky tapes.
2 Pack.
Soft Foam Lining.
Easy touch fastening.
Suitable for painful arthritic fingers.
Holds fingers or toes together for protection following injury.
Instructions:
Gently slip the loop over the injured finger or toe.
With the white side up, wrap strap under the next finger or toe.
Pull the strap back around tight and fasten.

Care instructions:
Hand wash in warm soapy water.
Leave to dry naturally.

Warnings:
If you have diabetes or poor circulation, consult your doctor before using.
If pain, numbness or irritation occurs discontinue use immediately.
This item should not be used as a bandage on broken skin.
Do not wear for more than 18 hours continuously.
Keep out of the reach of children.