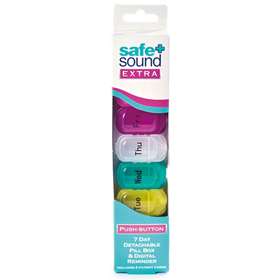 Click on image to enlarge



Price: £9.19 (incl VAT)
Sorry, this item is currently unavailable. Click here to receive notification when this product comes back into stock.
Safe And Sound Extra Push Button 7 Day Detachable Pill Box & Digital Reminder An ideal way of keeping track of your daily medications and vitamin regime by using the the handy detachable digital alarm reminder. Incorporating multi-coloured detachable pocket size detachable units for ease of use and convenient transportation. Compartments can be joined and separated when required and the pill box is opened at a push of a button. Completely washable.
7 day detachable pill box.
Multi coloured.
With 2 patient cards.
Includes detachable digital alarm reminder.
Stop watch - time setting operation.
Easy push button opening.
Direction for Use: 7 day pill box: To open the compartments gently push the white button. Snapping the lid closed can damage the retaining lug. Wash entire unit before first and subsequent uses as required with warm soapy water. Rinse well and dry with a soft cloth.

Digital Alarm: Before the first use rotate the battery cover in the direction indicated using a coin or similar and remove the isolating strip. Replace the battery cover and rotate in the direction indicated until locked. When replacing the battery ensure that the positive terminal is facing upwards.

To set time: Press H button to select 12/24 hours mode. Press mode button for a few seconds until the display flashes. Press H and M until the correct time is displayed, press mode button again to display time.

To set time: Press the mode button until the alarm symbol is displayed; you can set up to 5 individual alarms. Press mode button again for a few seconds until the display flashes , press H and M to set desired alarm time. Press mode button again when finished. Repeat if multiple alarms are required. When alarm sounds press mode button to silence. To cancel an alarm go back and select alarm mode (eg alarm 1) then press M, this will disable the alarm setting.


To set the stop watch: Press the mode button until an egg timer symbol is displayed. Press mode button again for a few seconds until the display flashes, press H to set minutes and press M to set seconds. Press mode button again when finished.

Cautions and Warnings: Inspect all parts before the first and subsequent uses to ensure there are no defects, signs of wear or foreign particles. Replace entire unit immediately if any parts become worn or if any compartment fails to close securely. Do not recharge the batteries and do not take them apart, do not throw them into the fire or short circuit them.

Keep all pills and medicines and batteries away from young children at all times. Swallowing the batteries can be highly dangerous. If swallowed seek medical advice and help immediately.

Contents: Seven Day Detachable pill box and Digital Reminder, 1 x LR44 (AG13) button cell battery, including 2 patient cards.