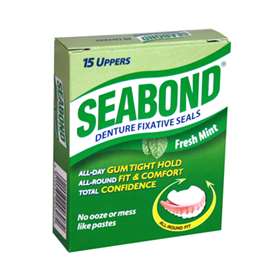 Click on image to enlarge



Price: £3.19 (incl VAT)
Sorry, this item is currently unavailable. Click here to receive notification when this product comes back into stock.
Seabond Fresh Mint Denture Fixative Upper Seals provide you with lasting hold without the ooze and mess of pastes. The all-round fit of Seabond ensures that you dentures stay in place all day long.


15 Upper Denture Fixative Seals

Comfortable to wear.

Easy to clean.

Natural adhesive.

Fresh Mint Flavour.

Contains tiny green dots of DENTSYN which help end denture breath.

The powerful adhesives in Seabond are in a pre-cut wafer-thin carrier to provide even adhesive distribution. Unlike adhesives which weaken in moisture, the adhesive power of Seabond is activated and strengthened by the natural fluids in the mouth.

The adhesive actually draws in moisture, so the seal expands to a water-smooth fit, filling gaps and openings between gums and dentures. With its special holding power, Seabond provides you with new comfort and security.

You will see hundreds of powerful breath freshening green flecks embedded in the Seabond seal. This is normal and it is the flecks of exclusive breath freshener that help keep your mouth clean tasting and odour free.

Directions for Use: Wash denture. Moisten seal thoroughly by dipping once completely in warm water or holding under the tap. Position the wet seal on denture. Smooth out any wrinkles with your finger. If seal is too large for denture, trim any overlap with scissors. Press denture into place and hold firmly for a few moments, until secure.