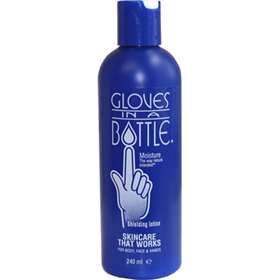 Click on image to enlarge
| | |
| --- | --- |
| Price: £5.99 (incl VAT) | Sorry, this product is no longer available. |

Like an invisible pair of gloves, skin care that works!

Chronic hand eczema and hand dermatitis is commonly suffered by professionals such as nurses, hairdressers, mechanics, decorators and others whose hands are constantly in water or exposed to harsh chemicals in the workplace. But for many, wearing gloves or using heavy barrier creams to protect cracked, dry skin or sore irritated fingers is impractical.

Conventional hand lotion, which aims to replace lost natural moisture with artificial moisture, comes off every time you wash or touch something. But unlike artificial moisturisers, Gloves in Bottle bonds with the outer layer of skin, turning it into a protective shield that works like an invisible pair of gloves, sealing out exposure to harmful irritants and allowing the skin's natural barrier to be restored. One application of Gloves in a Bottle lasts four hours or more and comes off naturally with exfoliated skin cells. Reapply every four hours for continued protection.

Gloves in a Bottle has been shown in independent laboratory tests to protect against skin and systemic reactions to doses of chemical irritant in excess of those likely to be experienced in the household or workplace.

Used and recommended by healthcare professionals.

Key Benefits:

Rapidly absorbed -creates a protective layer while retaining natural moisture from within.

Prevents sensitivity to latex gloves and is effective on feet and elbows too!

Will not contaminate food or stain clothes.

Non-toxic, and completely safe if ingested in the microscopically small amounts that may come off the hands before drying into the skin.

Virtually undetectable once dry.

Comes off naturally and gradually with exfoliated skin cells.

Fragrance-free

Lanolin-free

Greaseless

Non-sticky

Hypoallergenic

Completely safe and non-toxic.

240ml bottle gives approx 120 applications.