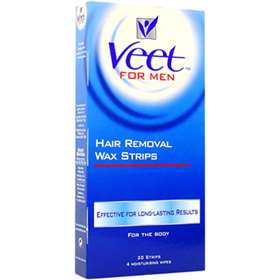 Click on image to enlarge
| | |
| --- | --- |
| Price: £6.13 (incl VAT) | Sorry, this product is no longer available. |
Veet For Men Ready To Use Wax Strips leave skin feeling smooth for up to four weeks. As waxing removes hair from the root, regrowth is much slower and doesn't reappear prickly like it does when shaving.
Long lasting results (up to 4 weeks).
No messy preparation required - it can be used anytime and with no mess.
Efficient even on short hairs (2 mm long).
Actual dimensions of the wax on the strip: approx.5cm x 13cm.
Comes with 4 soothing wipes.
Please note: For best results, hair should be between 2mm and 5mm long. If hair is longer than 10mm, it is recommended you trim with scissors or hair clippers to avoid discomfort and damage to the skin when waxing.

Veet for Men wax strips are suitable for the back, arms, legs and underarms, but not should be used on the head, face, eyes, nose, ears or around the anus, genitals and nipples. Note that there is also a Veet for men Gel available that is far less painful than waxing.

Directions
Trim the hair to between 2mm and 5mm. If this is your first time, then start with the legs because it will be less painful. Ensure that the skin is clean and very dry. It is best to leave a couple of hours after showering to ensure that the skin really is dry. Don't apply any moisturisers or oils as this will ruin the effectiveness of the stickiness of the wax.

Warm up a Veet for Men wax strip by rubbing it with your hands for up to a minute. The strip should be soft and around body temperature before use. Apply a strip to the skin in the direction of hair growth. Firm it down with your hands for about 10 seconds.

Now to remove the strip, and of course the hair that is stuck to it! Hold the skin taut and grip the strip firmly. Quickly pull the strip away from the direction of hair growth (i.e. you hold the end that was the last end to be applied to the skin). You have to pull it as quickly as possible to minimise the pain! Also remember not to pull the skin upwards, but rather against the direction of hair growth.

You can now repeat the process. The strips are re-usable, up to around 4 times. You should remove hair from a strip before it can be re-used. To do this, you should "wax" it with another strip, i.e. put 2 strips together and rub them together. Then you can re-use both strips.

You can cut the strips if necessary for application to small or hard-to-reach areas.

After waxing, use the supplied wipes to remove traces of the wax. Wait for around a day before applying anti-perspirant.