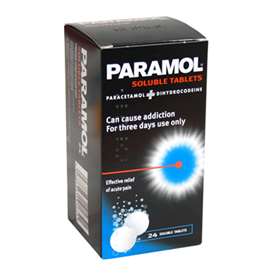 Click on image to enlarge



Price: £3.99 (incl VAT)
Sorry, this item is currently unavailable. Click here to receive notification when this product comes back into stock.
Paramol Tablets - Contains Paracetamol 500mg and Dihydrocodeine Tartrate 7.46mg.

For the Treatment of:
Headache.
Migraine.
Feverish conditions.
Period pains.
Toothache/Dental Pain.
Muscular pain including Backache.
Directions for Use:
For adults and children over 12 years: One or two tablets may be taken every 4-6 hours.

Do not take more than eight tablets in any 24 hour period.

Warnings:
DO NOT EXCEED STATED DOSE.
IF SYMPTOMS PERSIST CONSULT YOUR DOCTOR.
MAY CAUSE DIZZINESS, IF AFFECTED DO NOT DRIVE OR OPERATE MACHINERY. AVOID ALCOHOLIC DRINK.
IF YOU NEED TO USE THIS MEDICINE FOR MORE THAN THREE DAYS AT A TIME, SEE YOUR DOCTOR OR PHARMACIST.
TAKING DIHYDROCODEINE REGULARLY FOR A LONG TIME CAN LEAD TO ADDICTION.
TAKING A PAINKILLER FOR HEADACHES TOO OFTEN FOR TOO LONG CAN MAKE THEM WORSE.
DO NOT TAKE WITH OTHER PARACETAMOL CONTAINING-PRODUCTS.

Ingredients:
PARACETAMOL, DIHYDROCODEINE TARTRATE, MAGNESIUM STEARATE, PROVIDONE, MAIZE STARCH, HYPROMELLOSE, TITANIUM DIOXIDE AND MACROGOL.

Please Note: Due to MHRA regulations we can only despatch one box of Codeine-containing products at a time. Multiple orders will not be accepted. Codeine should not be taken for longer than 3 days as this can cause addiction. If you are still experiencing pain after 3 days of using Codeine please see your doctor.